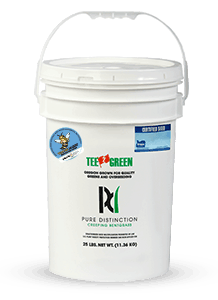 PURE DISTINCTION BENTGRASS WITH AQUATROLS
Summary
Uniquely bright green colored, Pure Distinction takes the superb attributes of the A's and G's parentage — dense, upright, and aggressive growth, less thatch and easy maintenance—to the next level. Its fineness is something other bents can't match. It's the ultimate bentgrass for smooth and true putting greens. Pure Distinction also has exceptionally strong resistance to diseases and outstanding resistance to heat, cold and wear.
Plant Characteristics
Taxonomy
Zone
Regional Growing Zone

1 - Northwest Coastal, 2 - California Coastal, 3 - Southern Mountain, 4 - Mountain, 5 - Midwest, 6 - Northeast Lakes, 7 - Great Lakes South, 8 - Appalacia, 12 - Southwest

USDA Plant Hardiness Zones

1, 2, 3, 4, 5, 6, 7, 8, 9

Temperature Zone

Warm, Cool, Transitional
Plant Characteristics
Leaf Color

Green

Leaf Description

Fine leaf texture.

Growing Cycle

Perennial

Growth Habit

Stoloniferous
Plant Information
Planting Season

Fall - Spring

Plant Depth

.25"

Minimum Soil Temp for Germination

60° F
Seed Information
Seeds Per Pound

6,000,000
Kingdom

Plantae

Subkingdom

Tracheobionata

Super Division

Spermatophyta

Division

Magnoliophyta

Class

Liliopsida

Subclass

Commelinedae

Order

Cyperales

Family

Poaceae

Genus

Agrostis L.

Species

Agostis stolonifera L.
Coverage Area & Available Sizes
How to Use & Apply
Seeding rates:
For new courses seed at 1- 1.5 LB/ 1000 sq. ft.
Applications
1-1.5 LBS PER 1000 SQUARE FEET