In recent years, sustainable and eco-friendly lawns have grown in popularity. These lawns are in high demand because input costs and maintenance are lower once the lawn has been established.
In addition, adding natives as part of the process creates a lower need for fertilizer and water. Other grasses, such as buffalograss, decrease mowing frequency or require no mowing at all.
Sustainable lawn practices also decrease the use of pesticides, herbicides and other chemicals that can be potentially harmful. A sustainable transformation to your lawn is more environmentally and family friendly. Here's how to start transforming your lawn to be more eco-friendly.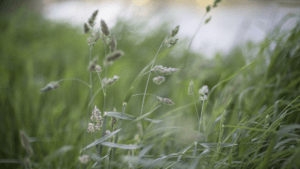 Sustainable and eco-friendly grasses include Buffalograss-Bowie,
Cody 
and Sundancer – all available at Johnston Seed.
How to Start
Before you make a plan for your sustainable lawn, it is important to know where you are starting from. For instance, ask yourself:
What nutrient levels

does my soil currently have

?

What species is my lawn?

Is my lawn in full sun, full shade or does it receive partial sun and shade?

If I have a homeowners' association (HOA), what are their rules regarding lawns and landscaping?
Once you have an idea of your current lawn and soil situation, you can put together a plan of what you want to accomplish. Some lawn changes can be fairly simple while others can take a great deal of time and investment to accomplish. Some things you may want to achieve are:  
Less watering – Opt for drought-tolerant varieties of grass.

Less fertilizer – Natives species are a great option.
NOTE: Although native species are a great option for your lawn due to their lack of disease problems, fewer inputs and lower maintenance needs, they are not always easy to establish. It can take up to three years for native plants to become well established. Please use the Johnston Seed product filter to determine which native species may be best for your region.
Maintain Your Sustainable Lawn
Once you have established your lawn we recommend:
Using a mulching blade on your mower instead of bagging and removing clippings.

Recycling rainwater to water your lawn and landscaping (be sure to check local regulations).

Fertilizing based on soil test results, time of year and species.

Following label directions on fertilizer. Be sure not to overapply.
Other Sustainable and Eco-friendly Alternatives
Seeding wildflowers into your lawn and landscaping will not only add an array of color to your yard, but it will also attract pollinators. Below are other ways of implementing a sustainable yard:
Build a garden for pollinators.  Add native and non-invasive plants that provide nectar and pollen as a source.

Xeriscape. This landscaping method saves water, requires less maintenance and is pollution free.

Establish a prairie garden and meadow. Make this a beautiful focal point on your lawn that will add color and attract wildlife.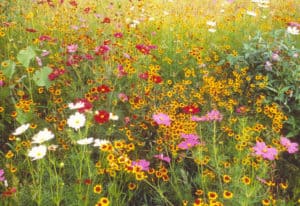 A mix of wildflowers adds a pop of color to your yard
that will attract neighbors and pollinators alike.
For more information on sustainable and eco-friendly lawns contact us or visit our resources page.