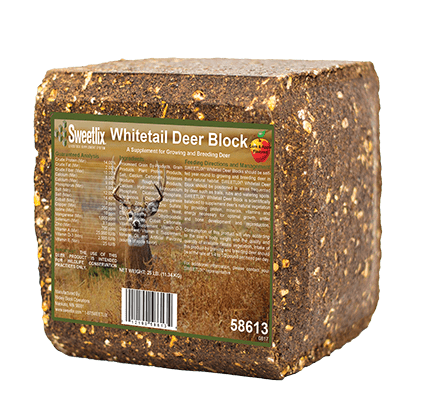 SWEETLIX WHITETAIL DEER BLOCK
Call for pricing availability –
(800) 375 – 4613
Summary
Highly palatable supplement block for deer of all ages
Delivers nutrients known to be deficient in most natural diets
Intended for wildife conservation practices only
Feeding Instructions
IMPORTANT: THE USE OF THIS DEER PRODUCT IS INTENDED FOR WILDLIFE CONSERVATION PRACTICES ONLY.
Feeding Directions and Management
SWEETLIX Whitetail Deer Blocks should be self- fed year-round to growing and breeding deer in their natural habitat. SWEETLIX Whitetail Deer Block should be positioned in areas frequented by deer such as trails, rubs and watering spots. SWEETLIX Whitetail Deer Block is scientifically balanced to supplement deer's natural vegetation by providing protein, minerals, vitamins and energy necessary for optimal growth, antler and bone development and reproduction.
Consumption of this product will vary according to the deer's body weight and the quality and quantity of available natural vegetation. Intake of this product by growing and breeding deer should be at the rate of 1/4 to 1/2 pound per head per day.
Product Ingredients
Processed Grain By-Products, Grain Products, Plant Protein Products, Salt, Calcium Carbonate, Molasses Products, Roughage Products, Calcium Hydroxide, Monocalcium Phosphate, Dicalcium Phosphate, Manganous Oxide, Manganese Sulfate, Zinc Oxide, Zinc Sulfate, Copper Sulfate, Selenium Yeast, Ethylenediamine Dihydroiodide, Calcium Iodate, Cobalt Carbonate, Vitamin A Supplement, Vitamin D-3 Supplement, Vitamin E Supplement, Mineral Oil and Artificial Flavoring (source of apple flavor).
Zone
Regional Growing Zone

1 - Northwest Coastal, 2 - California Coastal, 3 - Southern Mountain, 4 - Mountain, 5 - Midwest, 6 - Northeast Lakes, 7 - Great Lakes South, 8 - Appalacia, 9 - Southeast, 10 - South Florida, 11 - South Texas, 12 - Southwest

USDA Plant Hardiness Zones

1, 2, 3, 4, 5, 6, 7, 8, 9, 10

Temperature Zone

Warm, Cool, Transitional