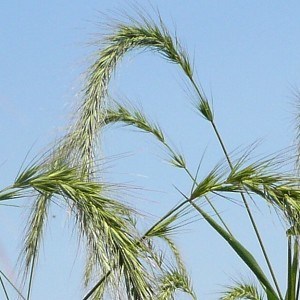 Call for pricing availability –
(800) 375 – 4613
Summary
Canada Wildrye  is a native, cool-season perennial bunchgrass that grows to 4 feet tall and is commonly found along sandy shores, wooded areas, and other disturbed sites. Canada Wildrye is well adapted throughout the northeast, north, and western United States. Unlike the warm-season native grasses, Canada Wildrye has excellent seedling vigor, establishes quickly, and has very good shade tolerance. If planted for grazing, Canada Wildrye must be carefully managed. The overgrazing of Canada Wildrye will lead to a decrease in plant population. Canada Wildrye utilized for hay should be cut at boot stage to maximize quality.
Plant Characteristics
Taxonomy
Zone
Regional Growing Zone

1 - Northwest Coastal, 2 - California Coastal, 3 - Southern Mountain, 4 - Mountain, 5 - Midwest, 6 - Northeast Lakes, 7 - Great Lakes South, 8 - Appalacia, 11 - South Texas, 12 - Southwest

USDA Plant Hardiness Zones

2, 3, 4, 5, 6, 7, 8, 9

Temperature Zone

Warm, Cool, Transitional
Plant Characteristics
Height

36" - 48"

Bloom Period

Late-Spring

Bloom Color

Yellow

Leaf Color

Green

Growing Cycle

Perennial

Growth Habit

Bunch-Type

Sun Requirement

Full Sun, Shade
Plant Information
Planting Season

Spring - Fall

Plant Depth

0.5"

Minimum Soil Temp for Germination

50° F

Establishment

Moderate
Seed Information
Seeds Per Pound

115,000
Kingdom

PLANTAE

Subkingdom

TRACHEOBIONTA

Super Division

SPERMATOPHYTA

Division

MAGNOLIOPHYTA

Class

LILIOPSIDA

Subclass

COMMELINIDAE

Order

CYPERALES

Family

POACEAE

Genus

ELYMUS

Species

ELYMUS CANADENSIS
Coverage Area & Available Sizes
How to Use & Apply
Planting may be completed in the spring or late fall, or early fall if moisture conditions are satisfactory. The seedbed should be firm and weed problems eliminated prior to planting.
Applications
Canada wildrye is often an early successional component of prairie mixtures.
Canada wildrye provides good forage quality during the early part of the grazing season but is generally considered an inferior forage after it matures. It is fairly palatable to most livestock, and is rated good in energy value but poor in protein value.
Exceptional seedling vigor and rapid establishment make Canada wildrye an excellent species for use in erosion control seedings. Stands of Canada wildrye typically establish during the 1st year, reach peak production the 2nd or 3rd year, and then rapidly thin out. This species is sometimes used in seeding mixtures where quick development and stabilization is needed.