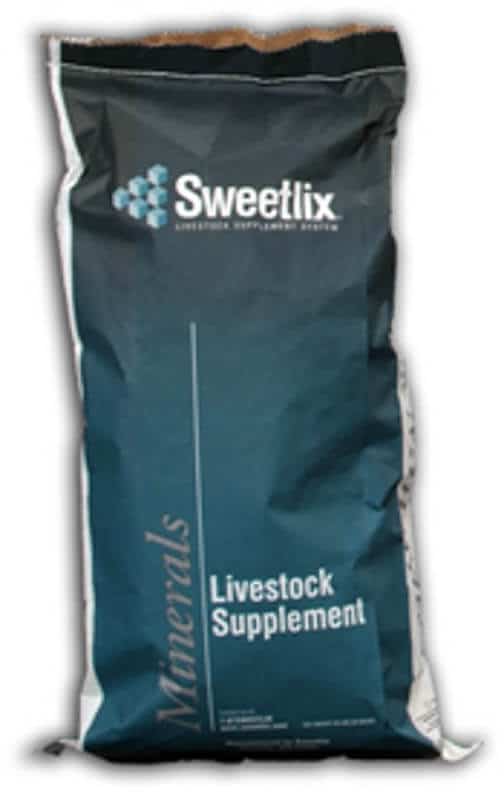 SWEETLIX MEAT MAKER GOAT MINERAL
Summary
Loose mineral product in 25 lb. bags. 2:1 calcium to phosphorus ratio. Designed especially for the nutritional needs of goats, Meat Maker provides 100% of daily recommended amounts of trace minerals including copper and selenium. Fortified with vitamins A, D and E. Designed to supplement forage/browse-based diets. Highly concentrated formula ensures that goats get full amount of needed minerals and vitamins. Very economical supplement for commercial goats.
*Do not feed to sheep.*
How to Use & Apply
Feeding and ManagementSWEETLIX® 16:8 Meat Maker® Mineral is a 2:1 calcium to phosphorus mineral scientifically formulated to be self-fed to goats on pasture. SWEETLIX® 16:8 Meat Maker® Mineral helps goats attain maximum performance by providing a complete vitamin and trace mineral supplement, which includes copper and selenium, designed especially for the needs of meat goats. High quality ingredients are selected to deliver optimal nutrition to your goats.SWEETLIX® 16:8 Meat Maker® Mineral should be self-fed as the sole self-fed source of salt and minerals at the rate of 0.3 to 0.5 ounces per head per day. When consumed at this rate, SWEETLIX® 16:8 Meat Maker® Mineral will provide 0.4 to 0.7 mg selenium.Provide at least 1 mineral feeder per 10 head of goats for access purposes. Locate mineral feeders near a clean, fresh source of water. Mineral consumption levels will vary depending upon the mineral status of the goats. Provide fresh, clean water to all animals at all times.
Notes
WARNING: This product, which contains added copper, should not be fed to sheep or any species with a low tolerance to supplemental copper.