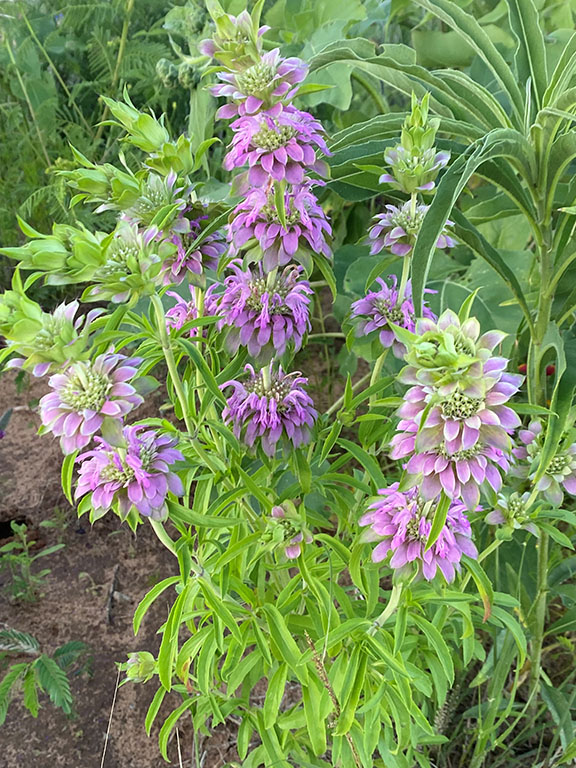 Summary
Lemon mint is readily recognized by its characteristic lemony -citrus scent, its verticils of showy flowers subtended by whitish to pale lavender bracts, and it two lipped corollas with white and pink petals with white spots. Lemon mint can be found across Arkansas to northern Mexico in a variety of sandy, clay loam soils.
It often grows in large clumps and is occasionally browsed by white tailed deer and when abundant, it provides limited cover for bobwhite quail and small mammals. Native Americans and settlers used it to make teas and a general tonic for colds.
Plant Characteristics
Taxonomy
Zone
Regional Growing Zone

1 - Northwest Coastal, 5 - Midwest, 6 - Northeast Lakes, 9 - Southeast, 10 - South Florida, 11 - South Texas, 12 - Southwest

USDA Plant Hardiness Zones

2, 3, 4, 5, 6, 7, 8, 9, 10

Temperature Zone

Warm, Cool, Transitional
Plant Characteristics
Height

12" - 31"

Bloom Period

Late-Spring - Summer

Bloom Color

Purple

Bloom Description

tuft-like, lavender to pink, whorled flower heads

Leaf Color

Green

Growing Cycle

Annual

Sun Requirement

Full Sun, Partial Sun
Plant Information
Planting Season

Fall - Winter

Plant Depth

.25"

Establishment

Easy
Seed Information
Seeds Per Pound

819,000
Kingdom

Plantae

Subkingdom

Tracheobionta

Super Division

Spermatophyta

Division

Magnoliophyta

Class

Magnoliopsida

Subclass

Asteridae

Order

Lamiales

Family

Lamaiceae martinov

Genus

Monarda

Species

Monarda citriodora
Coverage Area & Available Sizes
Applications
Many pollinators visit this aromatic wildflower, it is especially popular with bees, butterflies, and hummingbirds.
Lemon Mint readily reseeds when allowed to go to seed before mowing. When planted in large colonies, it creates a stunning visual and fragrant display. Deer resistant.