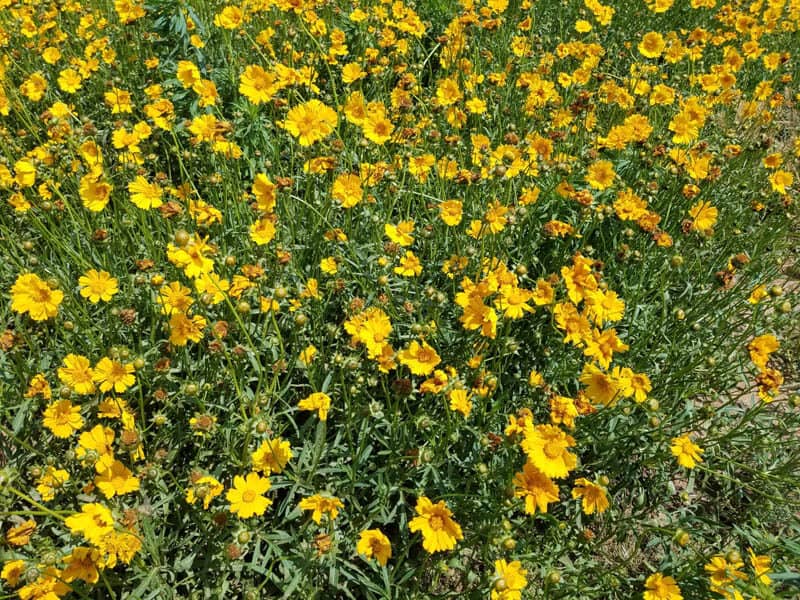 Cart
Shipping and discount codes are added at checkout.
Summary
Lanceleaf coreopsis, also known as tickseed, is a native perennial wildflower common in the United States and can be grown in widely diverse geographic and climatic regions. Lanceleaf prefers full sun but will tolerate light shade. The blooms are bright yellow and daisy-like measuring 1 to 2 inches in diameter. Lanceleaf is very drought tolerant and can survive quite well on infertile soils. It is most widely used in landscape plantings, roadside plantings, and prairie restorations. Lanceleaf is one of the easiest perennial wildflowers to establish.
Plant Characteristics
Taxonomy
Zone
Regional Growing Zone

1 - Northwest Coastal, 5 - Midwest, 6 - Northeast Lakes, 7 - Great Lakes South, 8 - Appalacia, 9 - Southeast, 10 - South Florida, 11 - South Texas, 12 - Southwest

USDA Plant Hardiness Zones

3, 4, 5, 6, 7, 8, 9

Temperature Zone

Warm, Cool, Transitional
Plant Characteristics
Height

12" - 24"

Bloom Period

Late-Spring - Early-Summer

Bloom Color

Yellow

Leaf Color

Dark Green

Growing Cycle

Perennial

Sun Requirement

Full Sun, Partial Sun
Plant Information
Planting Season

Fall

Plant Depth

0.25"

Minimum Soil Temp for Germination

70° F

Establishment

Easy
Seed Information
Seeds Per Pound

220,000
Kingdom

Plantae

Subkingdom

Tracheobionta

Super Division

Spermatophyta

Division

Magnoliophyta

Class

Magnoliopsida

Subclass

Asteridae

Order

Asterales

Family

Asteraceae

Genus

Coreopsis

Species

Coreopsis lanceolata
Coverage Area & Available Sizes
Applications
Attractive in mass plantings as well as in species mixes
The relative ease of establishment and bright display make it a very popular choice in roadside plantings
Insect attractant and cover for game birds Erosion control: when combined with grasses, forbs, and legumes.