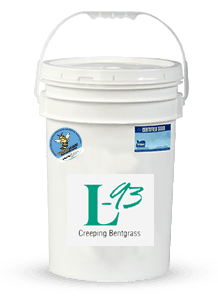 Summary
L-93 is a dense, up right growing creeping bentgrass, with a fine leaf texture. The variety is well known because of its fast establishment and high capacity to withstand cold winters. L93 is a versatile bent grass exhibiting outstanding turf quality on greens, tees and fairways which is due to a rich dark green color that is retained very well until late autumn. In spring L-93 is able to green up very fast.
• Dense, upright growth
• Fine texture
• Aggressive establishment
• Excellent winter hardiness
• Highly adaptable to wide range of mowing heights
• Rich dark green colour
• Superb cool weather colour retention and spring green up
**This item is shipped directly from our vendor. Please allow additional time for order processing.**
Plant Characteristics
Taxonomy
Zone
Regional Growing Zone

1 - Northwest Coastal, 2 - California Coastal, 3 - Southern Mountain, 4 - Mountain, 5 - Midwest, 6 - Northeast Lakes, 7 - Great Lakes South, 8 - Appalacia, 12 - Southwest

USDA Plant Hardiness Zones

1, 2, 3, 4, 5, 6, 7, 8, 9

Temperature Zone

Warm, Cool, Transitional
Plant Characteristics
Leaf Color

Green

Leaf Description

Fine leaf texture.

Growing Cycle

Perennial

Growth Habit

Stoloniferous
Plant Information
Planting Season

Fall - Spring

Plant Depth

.25"
Seed Information
Seeds Per Pound

6,000,000
Kingdom

Plantae

Subkingdom

Tracheobionata

Super Division

Spermatophyta

Division

Magnoliophyta

Class

Liliopsida

Subclass

Commelinedae

Order

Cyperales

Family

Poaceae

Genus

Agrostis L.

Species

Agostis stolonifera L.
Coverage Area & Available Sizes
How to Use & Apply
Sowing and maintenance:
Seeding rates:
L-93 is recommended to be used in pure stands and creeping bentgrass blends. For new courses L-93
should be seeded at 1- 1.5 LB/ 1000 sq. ft.
Mowing height L-93 requires frequent mowing and should be mowed at a low height.
Watering
After seeding and establishing L-93 prefers deep watering early in the morning.
Applications
1-1.5 LBS PER 1000 SQUARE FEET